Albania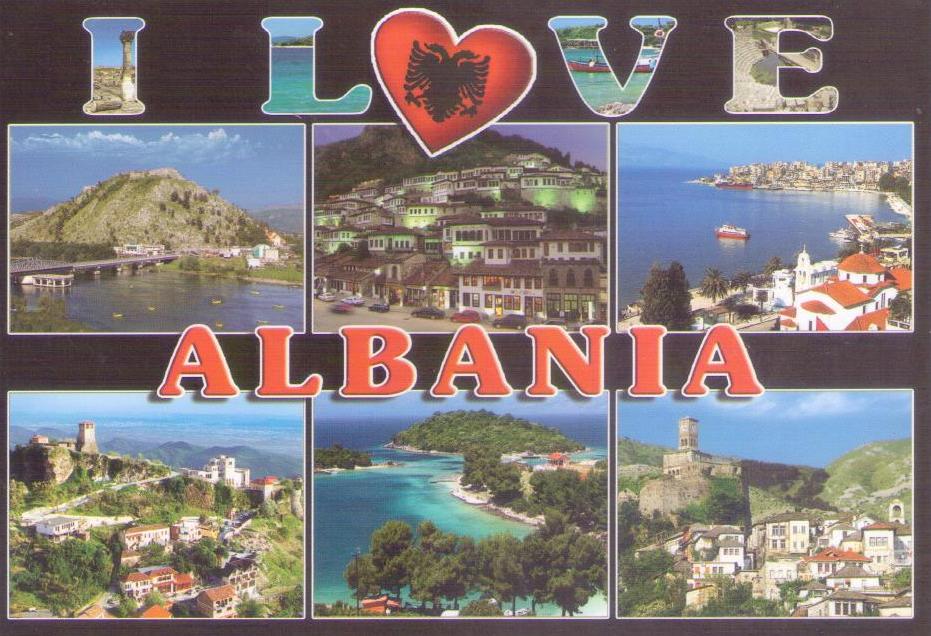 When we were younger — and the world was different — many of today's countries didn't exist, and some that do had entirely different characters. 
Albania is one of those.  Back then, we had the impression it was hermetically sealed, nobody in or out, so we were as curious about it as
someone who lived in China would be if they couldn't visit Hong Kong.   Or vice versa.
Now we know.  With postcards as an excuse, we spent eight great days in a country that's doing its level best to provide a full range of tourism and
educational experiences to anyone willing to figure out how to get there, even if that means–as it did–going through Istanbul.
Much as we'd like to make this a travelogue, it's a postcard Blog.  One publisher has the monopoly.  We're guessing that as Albanian postcards become more sophisticated, so will the captions.  The typical bilingual Albanian/English legend just says "View from (city name)" when the specific building or statue or scene cries out for identification.   Cards from the coastal city of Durres are a perfect example.  You can describe the same rows of beach chairs only so many ways.  They really should convert photos taken by Diana, Durres's famous Sworn Virgin.  (But that's another story.)
Inexhaustible guide Ardi quickly figured out one way to make us happy was to drive or walk by a postcard vendor.  Language problems meant he got to take over the purchase process too.  Meanwhile, tour company owner Elton, showing the same boundless friendliness we encountered everywhere, let us have older spares from his own collection.  Some made it into the site; most are for our private stash.  You can see overall results from this trip in our Albania category.
We loved Albania and would go back in a flash to see the rest of the country if that were possible.  There's still a world to see, though, and we must
resist the temptation only to visit the few remaining places where GPS has no postcards.