Manga ( 漫画 )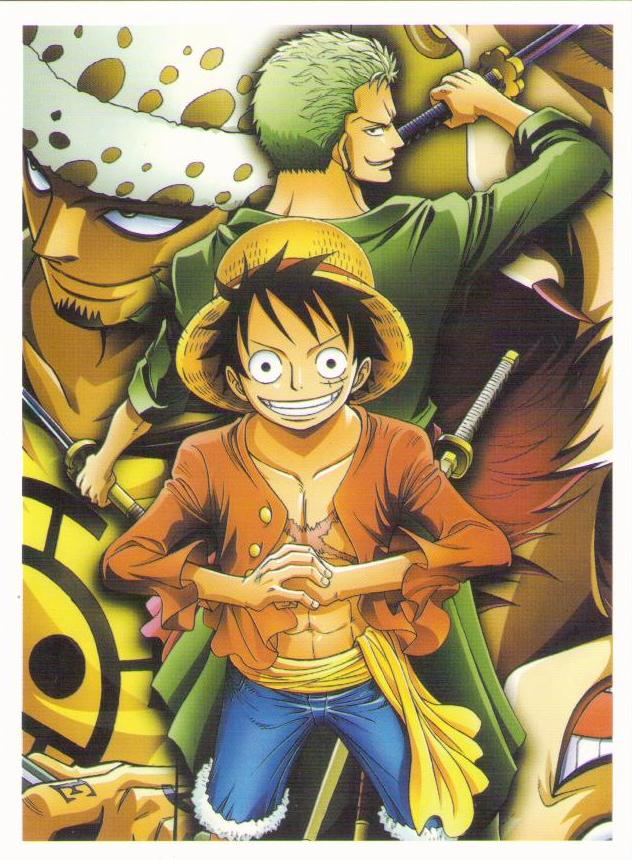 If you don't know about Manga, our best advice:  get your cup of coffee and head immediately to the Wikipedia entry that explains everything yet nothing.  The thing is, if you're Japanese or Chinese or Korean you probably know all this anyway.  If not, of course you might already be a fan.  Or, you could be like us and barely scratch the surface of understanding artwork going as far back as the 12th century (at the most extreme) or as recently as the late 18th century.
Luckily for all of us, this blog isn't a tutorial on Manga, or Anime (think of that as the moving version).  It's just one of our periodic commentaries on how the theme fits into our collection.
First, our sources.  Many of the Manga cards we offer came from China, even as they feature Japanese series.  The lead card here shows Monkey D. Luffy, hero of One Piece, a massively popular and long-standing series.  Mostly because we grab what we can find, we have quite a few from another group called Identity; also Totoro and Doraemon, if you want to classify those popular characters as Manga — most people do, though equally as Anime.   Many of you know we used to go across to Shenzhen all the time, and know of one mall there with a Dickensian underground arcade having a selection of some of the most obscure and wonderful Manga in all forms.  Magazines, cards, everything.  Of course visits to Shenzhen right now are out of the question, for reasons we all know, but things will get better eventually.
Why do we like Manga cards?  Using Monkey as your starting point, maybe you can browse through the Manga theme category and see the great richness of primary colours; the detailed and complex artwork; and the action.  (Monkey is our hero.)  If real life were as busy, we might all be the better for it.
So now, we wish you well … and remember, postcards are a great hobby.   Choose an obscure topic and start your search.  Nobody will sneeze on you.
Until next time.