Okinawa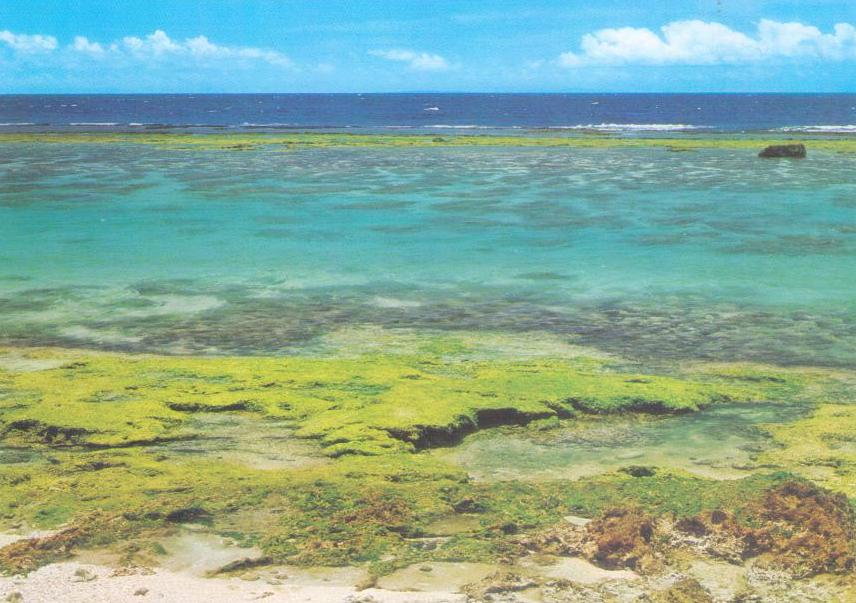 It wasn't just for the postcards. Okinawa isn't far from Hong Kong. We had never been there. The chance for a cruise came up, and we took it. Six days, two typhoons, 2999 fellow passengers, 2006 crew, two shore tours … who could ask for more?
Recall our Blog about searching for postcards in PNG. Would history repeat itself? Our first clue we might not have it easy this time either was when the ship, for all its size and duty-free shops, had no postcards of itself. Not for free, not for sale–nothing.
We did two shore tours, separated by about 18 hours and a few KMs. The first was of the restored Shurijo Castle in Naha, and then an hour, late at night, on Kokusai-dori ("International Street"), one shop after another, all selling identical tourist kitsch and the occasional wildly overpriced postcard of a beautiful but empty beach.
But one store did come through. The delightful salesperson, who spoke no English at all but who was going to Make.This.Work.Regardless, uncovered a few cards in a hidden corner. No way the casual browser would ever have found them, so score one for sign language and determination. We bought them all. You can see them here, under "Japan".
The second tour, in Miyakojima, involved a non-operating salt factory with attached gift shop selling sea-salt ice cream cones; then a Marine Park with underwater portholes to see some small fish; and finally, a bridge. No postcards at any of these. No stamps, either, and no way to buy them.
And so we didn't mail any postcards from Okinawa.
If we were ever to go back (doubtful), we would go for the beautiful beaches. They are spectacular and enough to make you forget all about postcards.
~Goloh