The curse of being "global"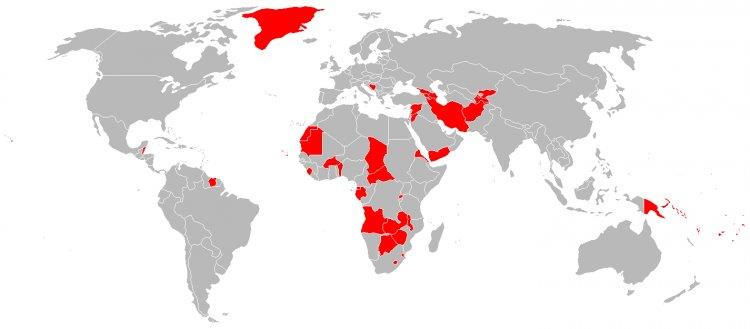 Well, we are "Global Postcard Sales" after all. The home page tries to say we know we're not the largest postcard site, though that hasn't stopped a few people from reminding us anyway that we're not. Even so, the word "global" has certain connotations and responsibilities, right?
We did a (quick) internet search to try to find an interactive map that we could copy-and-paste here. This one was supposed to be for countries we have visited, but being ever-resourceful and innovative, we decided instead to show you countries where we have maybe only one, or certainly no postcards for sale. The tiny map doesn't show the myriad of small islands we also clicked. Spratlys, anyone?
So that leads to: what, if anything, are we going to do about it? Note the focus on Africa, even though the map makes Greenland and Iran dominate. One way to rectify the situation is to pack our bags and take the world's most expensive holiday, touching down in each place and heading for the nearest bookstore. That's not going to happen. Another way is to buy from other sites, at retail. That's cheaper, and practical, and even justifiable if we position this activity as purely a hobby. But happily, we do sell cards, though we are trying not to list them at unrealistic prices. (More about that in the next Blog entry.) So buying at retail will solve the problem but we'll lose money doing it.
We think–now with more than 180 countries and not counting individual US states–that we are honestly global. For the past two years, we worked to bring South America into the fold. We guess, now, it should be Africa's turn. If you have boxes of old postcards from African countries and you don't want them any more, let us know. We'll make a deal.
Bye on this odd election day in Hong Kong …