Buffalo Bill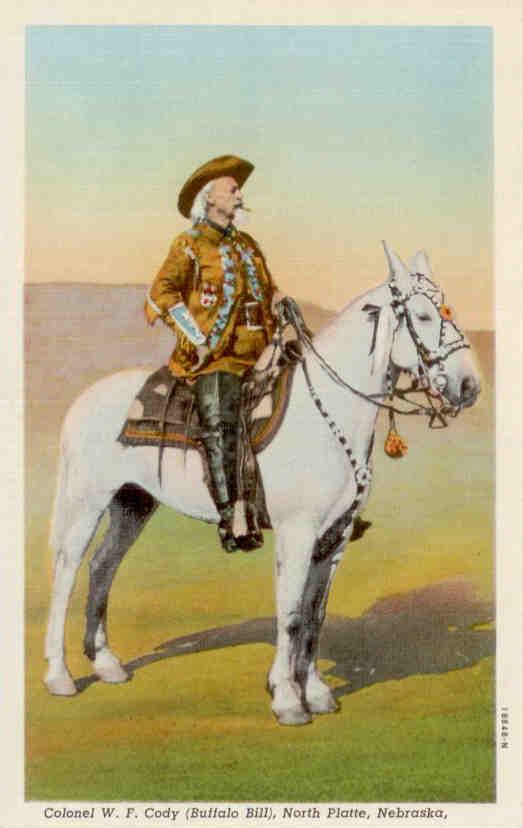 First of all, a big WELCOME! to new Blog subscribers.  We're grateful for every one of you, even more when you leave a comment.  But now, on with the entry.
Buffalo Bill is one of those names that fewer and fewer people still alive will remember.  He had his day in American history, and you can find out everything you want to know about him through any search engine.  We're not writing specifically about Buffalo Bill right now.  He is our best example of how and why we chose themes for the website.  (Full disclosure:  we've never sold any card featuring him.)  So why make him a category at all?
When GPS started many years ago, we needed to create groups, knowing from the start that one card might fit into more than one category–as, for example, a sunset view of a fishing boat in Malaysia might appear under Malaysia, boat, fishing, and/or sunset.  No, we don't always do this, but often.  In order to achieve this goal, we needed enough topics to give good variety.  Some were no-brainers, such as geography, though constantly changing country names and political affiliations can make a mess of that, too.  The real challenge was creating appropriate subjects.  How to do this?
Several ways.  First, based on cards we already had (e.g., Aviation).  Next, based on what competitors do–easy to search, on the theory that if they have this topic, it might be a good idea.  Next, particular topics that interested us regardless of saleability.  And finally, have at least a few that seem quirky and add the feeling of something unusual.  That's where Bill comes in.
Side note:  when we (OK, OK, "I") was much younger, my aunt and uncle had an island in Ontario.  A resort on the mainland shore right at the embarkation point for that island was owned and run by a man who was something like Buffalo Bill's great-grandson.  I think I still have his autograph.   That was exotic to a kid like me for whom Buffalo Bill was still a hot topic in the history books.  Now, back to "we".
So yes, we have a Buffalo Bill category, and somewhere out there, someone collects cards featuring him, and we hope they find us so we can make their day happy.
Until next time …