Indonesia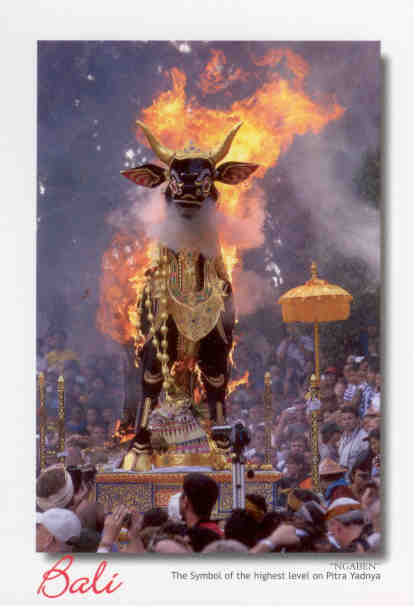 We just came back from one of our periodic trips to Indonesia, so it's a good chance to say something about their postcards. Keep in mind that Indonesia is a huge country no matter how you look at it: 4th largest in population, maybe 13th or 14th in land area, and 16,000 to 18,000 islands–some of which disappear under high tide. Distances are so vast that the total length of the country (west to east) is almost exactly the same as the distance from Jakarta to Seoul. So there are lots of postcards, right?
The answer is "probably," but not where or what you would expect. Bali, the Hindu part of Indonesia and unquestionably the greatest tourist draw, is awash in cheap cards. But they tend to focus on temples, rice paddies, traditional dancing, and cremations. Jakarta is a whole other story. Let's tell the truth: Jakarta is not a beautiful city, and it is nobody's idea of a tourist destination unless your starting point is somewhere on one of those other 16,000 islands. Nowhere is this more obvious than in the choice of postcards. Go to any of the two or three bookstore chains, and what do you find? Postcards of Bali. A few of Jakarta, mostly at night. A few of the more colourful indigenous groups from the provinces. If you're lucky, you may find specialty shops selling artistic cards with batik designs. But, in Jakarta, for the most part two postcard companies have locked up the market.
The Post Office in a northern area of Jakarta, an old facility, has a "Filateli" section with a good range of old (very old) first day stamp covers. We found no maximum cards in the main sales area, but a little exploring brought us upstairs to a cavernous room with three or four of what looked like private individuals using postal facilities to sell a limited range of stamps and cards. Whether this area gets busy when new issues come out, we don't know. Then, ringing the outside of the building, adjoining stalls sell various stationery items and a few old, dirty postcards–not all from Indonesia, either. The only other place we know to look is an antiques street called Jalan Surabaya, where one or another trader can sometimes be coaxed into dragging out a few old cards of English cathedrals or Swiss mountains, at laughably exorbitant "foreigner" prices.
Being in the upscale shopping malls in Jakarta–where the bookstores and therefore the postcards are–is a reminder of the vast gulf between the haves and have-nots. Grand Indonesia shopping centre, or Plaza Indonesia, are like being in Fashion Valley U.S.A., though much bigger. We still have hope we will stumble onto new sources for postcards there. We never give up.