Papua New Guinea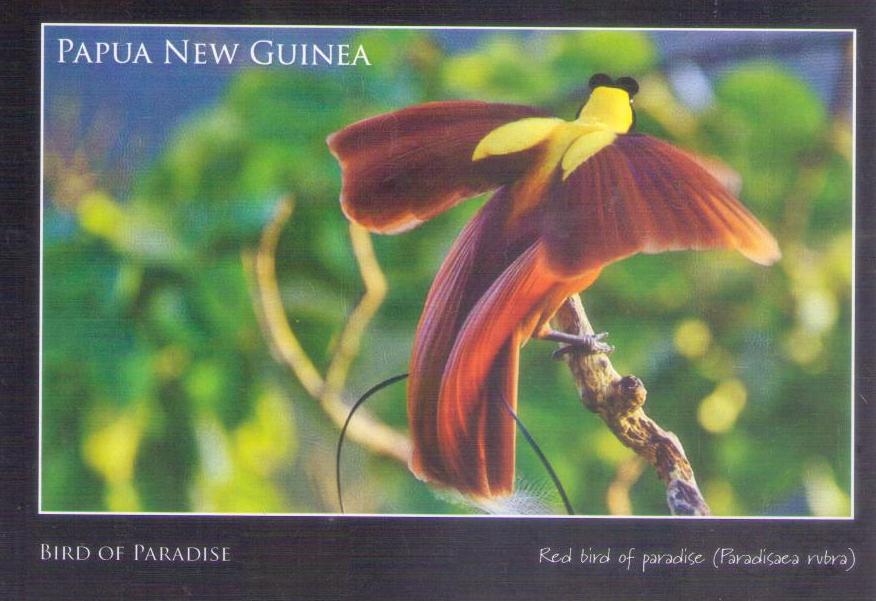 There is something new under the sun, after all.  We had always wanted to visit PNG, and it was the last of the Asian countries east of Bangladesh on our bucket list.  As if we needed any other reason, we had no postcards from there.  So why not go?
Well, if you believe reports from just about any source, security is a real issue in Port Moresby, and it's hardly possible to go anywhere else without being in Port Moresby (locally referred by its airport code, POM) first.  But when friend Raymond said he had a friend who had a relative who had a husband who … that was enough to convince us the time was right.
This is a Blog about postcards and not the country, so we'll stick to the topic except to say we were told firmly to be good boys and not to try to go anywhere in POM unless we were securely escorted.  We only needed to be told once.  I had already warned my two travel companions that finding postcards was a priority, and they understood, so off we went.
Wow!  It was as if some obscure law was in place to make sure nobody could buy a postcard, not anywhere.  Not in hotels, not in bookstores, not in stationery shops, not in the airport.  You can imagine how this became an unwanted obsession.  Finally we went into one post office branch, and at last  there some were.  That was just the beginning of the fun.
*  "Can we buy these?"
*  "You want to buy these?"
*  "Are they for sale?"
*  "Postcards?"
*  "Yes, those."
*  "Oh, these?"
It got better.  Those cards were supposed to have been "in the system" but the postal clerk couldn't find them, so she instantly became very, very reluctant to let them out of her sight.  Then we asked how much the stamps would cost to mail one.  For that she had an answer–though we still didn't have the cards–and then she said "but they will never arrive".  We're going to let you imagine the solution to that particular problem.
OK, with that out of the way, we flew off to Rabaul/Kokopo, far from POM, where the only two cards we found for the first two days were only of the hotel itself, for sale at a ridiculous price.  We passed on those, and it was only during the final few hours, in a cavernous supermarket (Tropicana) that sold everything under the sun, very much by accident we turned around and Bingo!  There was a rack of cards.  But that wasn't the end of the story.  The retail prices were marked on the rack, and when we got to the checkout line, the boss came over, took the cards, counted them, and doubled the marked price.  He must have somehow known that we would have paid just about anything.
Footnote:  the departure hall after Immigration at POM's international airport has a shop with a few nice cards, at extortionate prices to be sure but they were high quality.  No stamps, though.  Some other tourists were mumbling about this too, saying–correctly–that the time and place to buy and send cards was not just as they were about to get on a plane to leave the country.
So much more to say, but not here.  We had a great, and safe, trip–really one of those once-in-a-lifetime chances–and will always be grateful to Raymond and Alex and Ian and Rick for all the arrangements.  Now go browse our PNG category and see the results.
~Goloh