Thailand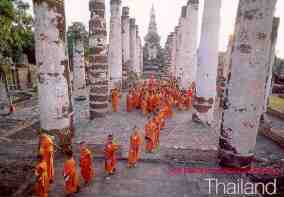 We go to Bangkok once or twice a year, usually for specific reasons but not usually on holiday.  We think we know the city fairly well, but it's so big and so chaotic in so many ways, there will always be surprises.  Traffic jams are never a surprise, and Bangkok along with Jakarta and Manila comprise the perfect storm of going nowhere fast — except for Bangkok's heavily-used Skytrain.
But we digress.
Not very long ago, postcards in the few racks along the street cost maybe 4-5 Thai Baht each (roughly 15-20 US cents).   This time we saw none for less than 15 Baht (50 US cents), and most of those were the same as before, just price-inflated.  Thailand is such a colourful place, one of the world's greatest tourist destinations, and so almost any sight is fodder for a postcard.  In Bangkok alone, the Grand Palace, Wat Arun, Wat Pho, Chatuchak Market, monks, elephants … yes, even now, and not legally, in the city.
Thailand also ranks with Myanmar (Burma) as one of the most distinctly Buddhist countries on earth, and honestly it's likely there will be a Buddha representation or theme on every other postcard you see.  (Check our Thailand and Buddhist categories.)  The fun begins when you try to mail these cards.  Thai people, and their Government, are especially sensitive to representation of Buddha images.  Though we have not heard specifically of a postcard featuring The Buddha being intercepted, we've never tried to send one.
Apart from that, Thai stamps are among the most ornate–and biggest–in the world.  The best way to make your overseas friend very happy is to buy the card, bring it to a post office, and try to buy smaller-denomination stamps to make up the total.  Paste those on the card before you write your message.  You won't be needing to write much, we promise.  (As well, don't get too frustrated over language difficulties.)  The outgoing postal service in Thailand is excellent, unlike some nearby countries where stamped cards get stolen too often.
So we're now back at work, and you can make your own armchair tour just by browsing our Thailand category.
*******
One more thing, not about Thailand but about here in Hong Kong.  A helicopter services company advertises, in yesterday's newspaper, a 15-minute "Hong Kong Island Experience" Private Flight for HK$9240 (US$1185), reduced as a Father's Day special from HK$10500.  Wow!  And what are they offering as an inducement to book this 15-minute trip?  What else — "Free Gift" of a set of six postcards.  Much as we would like to get our hands on those, imagine what we would need to sell them for!
Until next time.