U.S. presidents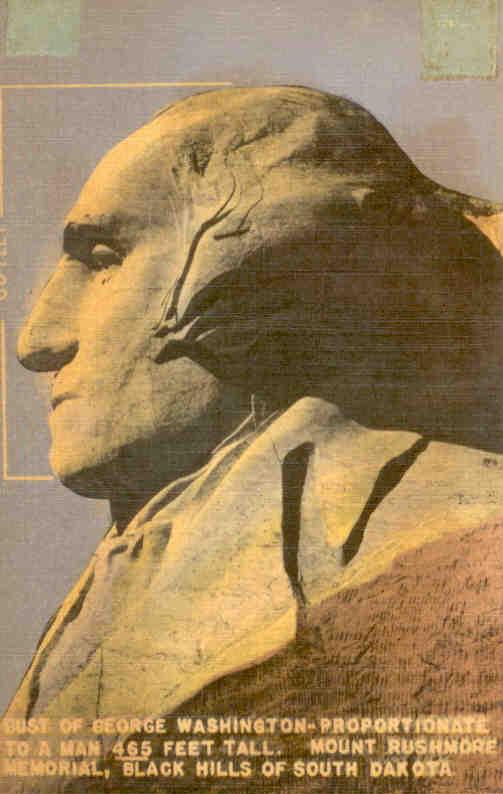 Our home page says "No politics! (Not usually.)" Yes, it is possible to do a Blog entry on U.S. Presidents without getting political about it, though we admit these trying times sorely test that promise. As a concession, we've chosen an old card of the first of these gentlemen, George Washington, who appears on Mt. Rushmore in South Dakota along with others. We suppose there's no room on that hill for more, though.
So far, if you include one (Grover Cleveland) who managed to gain office twice in the late 19th century but not consecutively, there have been 45 presidents since Washington was elected in 1789. Given that postcards only came into being in the late 19th century as well, a scroll through our theme category 392 shows you how publishers managed to focus on individuals without having them in the picture at all. We see their birthplaces, their homes, their dining rooms, their kitchens, their bedrooms, even Buchanan's bathroom. Their graves, their monuments, their libraries and museums, and — for the past 100 years or so — their photos too. Some cards depict specific events. Some show wives, families, or pets. Some show statues, speeches, and cartoons. Others show visiting dignitaries. One noteworthy example has Ronald Reagan and his wife slogging through the mud after a flood.
A few years ago, during the Obama term, we happened to be in Washington, D.C. and were in the tourist areas down by the Mall. Vendors gave pride of place to a great variety of postcards. We wondered whether the Obama family ever had a chance to see how they were sometimes portrayed. No, we've not been back since. No doubt the dynamic now is much the same.
Of the 45 presidents, right now we have cards representing 32 of them. We have one friend who goes to postcard shows and keeps her eyes open for the missing entries. Hope springs eternal, but you know how it is: just when we hit 45 (or 44, thanks Grover), it will be time for a new one, and a few more new postcards. Until then, bye for now.